How to Register for My Health Online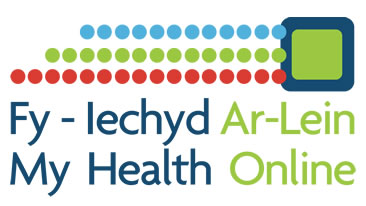 To download these instructions, click here…
Registering for My Health Online (MHOL) is easy and gives you many benefits. Including:
See basic medical records
Reorder repeat prescriptions
Book appointments (facility coming soon)
View your details
Registering for My Health Online
Step 1 – Proving Identity
Even though we may have known you for years, for data security, we still need to prove you are who you say you are. Please come to the reception with:
Proof of ID (preferably Photo ID like passport or driver's license).
Your email address.
COVID-19 UPDATE: Do not come to the surgery with ID. Instead we ask you to email contact@dyfivalleyhealth.org with your DOB, registered address, and NHS No. Once received and confirmed we will register you for My Health Online.
Step 2 – Registration Letter and Details
Once you have proven you are who you say you are, the receptionist will access your account and register you with MHOL.
At this point you will receive a letter (printed and/or sent to your email address). This letter contains the following important information:
Practice ID
Account ID
Account Linkage key or PIN
You will need this information for the next steps…
Step 3 – Creating Your Account
Go to this web page: https://www.myhealthonline-emisweb.wales.nhs.uk/account/login?ReturnUrl=%2F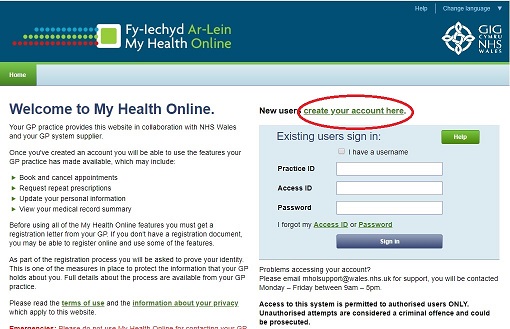 Click on the "create your account here" link.
On the next "Register Page" you will be asked if you "Have received a registration letter from your practice?" – Click YES
You will then be asked to give the Practice ID, Account ID and Account PIN from the letter you were given / sent in Step 2. Fill these in and click "NEXT"…
On the next Register Page you will be asked for your:
These need to match what we have on our system.
Create a password. Click "Next"…
You will now go to the following Register Page: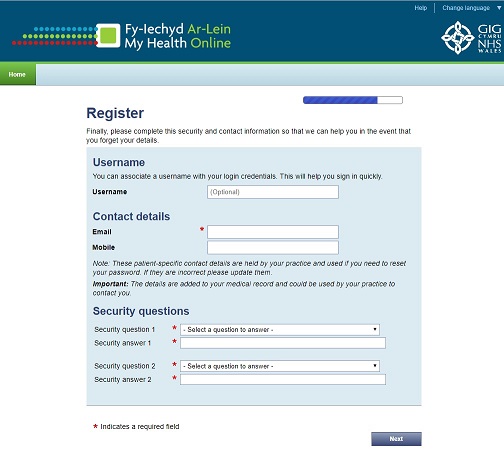 Do the following:
Create yourself a Username (makes life easier logging in later)
Add the email address you used in Step 1 and add a mobile phone number
Create two security questions
Click Next…
If created successfully you will receive your login details!
MAKE NOTE OF YOUR USERNAME or PRACTICE ID & ACCESS ID
Click "Sign In"…
Step 4 – Signing In
If you created a Username, click the click box "I have a username". Fill out the form with username and password.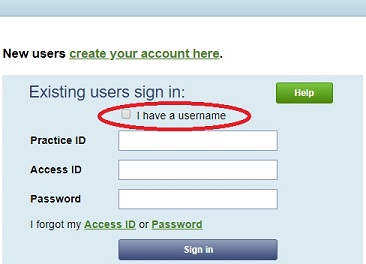 If you did not make a username, add the Practice ID and Access ID you were given, as well as the password you created.
You are now in the My Health Online Dashboard!